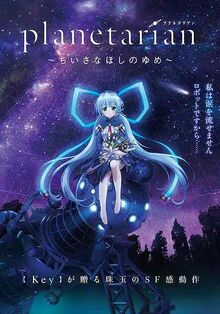 Planetarian: The Reverie of a Little Planet is a net anime adaptation for the Planetarian visual novel. It is produced by David Production, and the first episode premiered on July 7, 2016. It was released on Niconico and other streaming services in Japan, and on Funimation and Daisuki overseas.
Production Credits
The Planetarian original net animation was produced by:[1]
Director: Naokatsu Tsuda
Writer: Shōgo Yasukawa and Naokatsu Tsuda
Series Director: Katsuichi Nakayama and Shunsuke Machiya
Original Cooperation: Key/VisualArt's
Original Character Design: Ēji Komatsu
Character Design: Hitomi Takechi
Mechanical Design: Kanetake Ebikawa
Prop Design: Uchida Shinya
Art Design: Hiroshi Izumi
Colour Design: Yūko Satō
Art Director: Yūsuke Takeda and Yūko Sugiyama
3D Director: Yōji Nagasawa
Director of Photography: Arimasa Watanabe
Editing: Kiyoshi Hirose
Sound Director: Takayuki Yamaguchi and Naokatsu Tsuda
Sound Effects: Yasumasa Koyama
Music: Shinji Orito, Donmaru and Tomohiro Takeshita (VisualArt's)
Animation Production: David Production
Production: VisualArt's/Key/Planetarian Project
Cast
Keiko Suzuki as Yumemi Hoshino
Daisuke Ono as The Junker
Yasumichi Kushida
Satoshi Taki
Rina Satō
Masaru Shinozuka
Sanae Fuku
Yōko Hikasa
Minami Tsuda
Shizuka Ishigami
Yūki Kuwahara
Akiko Takeguchi
Tamio Ohki
Episodes
Notes
↑

All English titles taken from Funimation
References
Community content is available under
CC-BY-SA
unless otherwise noted.